It's that time again! In this issue, we cover overage claims, our new billing guide and some exciting new features. As always, grab a coffee and click on whatever interests you the most.
Happy Billing!
First, in case you missed it:
A few weeks ago Dr. Bill joined RBC Ventures! Find out why we decided to join RBC Ventures and learn more about the acquisition.
What's in this issue:
---
Billing Tips & Reminders
Avoid Overage Claims

No matter what province you're in, make sure you know the rules for overage claims and always give yourself 4-5 days of legroom when submitting claims close to their deadline.

That way, if there's a submission error or a problem with your claim, you'll still have time to resubmit it before the deadline.

For example, in BC, claims need to be submitted within 90 days – which means you should try getting them in on day 85-86. In Alberta and Ontario you have up to 180 days, so submit them on day 175-176.

New Articles

Here's what's new since the last newsletter:
---
OHIP Reminders
Incorrect 'time of day' Special Visit Premiums
When using special visit premiums make sure you use the correct codes based on the time of day. For example, don't use weekend codes during the week, this is something we see a lot and results in rejections that could have easily been avoided.
Likewise, with travel premiums, remember that they only apply to the first person you see. All additional patients seen on that visit should be billed with the premiums for "additional patient seen" and NOT travel premiums.
REMINDER: In Dr. Bill, when applicable, always bill the travel premium first and the corresponding "First Person Seen" code will pop up as a suggestion, you then just need to click it to add it.
For a review of special visit/travel premiums check out this article.
We've added anesthesia to our billing cheat sheets.
Anesthesia Billing Codes Cheat Sheet
Check out our previous billing cheat sheets: Cheat Sheets by Specialty. Don't see your specialty? Let us know and we'll work on it next.
Updated Telephone Consultations
We've updated our telephone consultation article, as telephone calls, comprehensive consultations and detentions are often overlooked. Check it out to make sure you're billing these easy extras.
If you're new to billing in Ontario, check out our Ultimate OHIP Billing Guide for automation tips, billing reminders and best practices.
---
MSP Reminders
We recently put together an MSP guide that walks you through each step of billing, from the general teleplan process to maximizing claims.
MSP recently added 4 new Pediatric fee codes to the payment schedule.
---
AHCIP Reminders
How to use CMGP Complexity Modifiers Properly

(CMXV15, CMXV20, CMXV30, CMXV35, CMXC30)
You can use complexity modifiers for the total time you spend managing your patient's care. Keep in mind you have to use them on the same day your patient was seen. For example:
You review your patient's chart, see your patient and then complete a referral letter. The total time spent is 35 minutes. Therefore, along with the visit fee code, you could use CMXV35.
However, if you were to complete the referral letter on a different day than the visit and it took you 10 minutes to complete, you would not be able to include it in the modifier. Therefore, the total time spent would be 25 minutes. You'd need to use CMXV20 'for 20 minutes or longer.'
If you have any specific questions about CMGPs or would like specific billing tips on something else, hit reply and let us know.
---
New Features
1. Add Multiple Patients to a Single Claim
On the web app, you can now add multiple patients to a claim. You can add multiple individual patients or a group. Simply select 'individuals' or 'groups' then search by name and add as many as you'd like!
This feature is currently only available in BC and Ontario.
2. Add Multiple Billing Codes on the Same Encounter
On the web app, you now have the option to add multiple billing codes for the same encounter on one claim. Just click "+ Add Another."
This feature is currently only available in Alberta.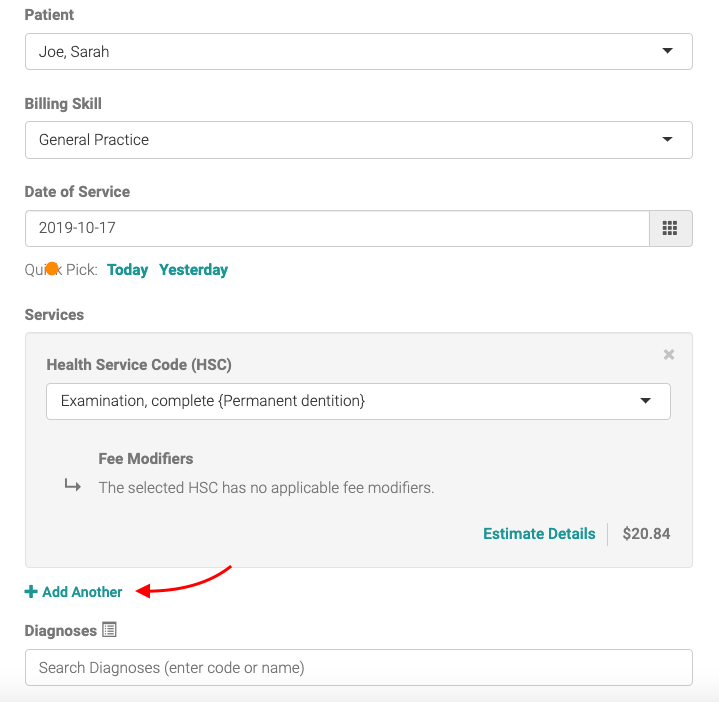 Don't have the app yet? Download it here: iOS, Android.
3. Update for Direct Deposit Changes
Anytime you'd like to change your MSP direct deposit information you can do so directly from your dashboard. Click on your name on the top right-hand corner, then 'billing and direct deposit.' Click on 'Update direct deposit' and fill out the form with your new information.
We've outlined all the steps here with screenshots.
---
Keep Learning
For family doctors involved in any level of obstetrical care: Contemporary Topics in Early Antenatal Care: A Practical Course for Providers. This is a free interactive online course, with a focus on the first 20 weeks of pregnancy. Five modules cover a range of practical topics including aneuploidy screening, early bleeding management, management of hypertension, and much more. The program is certified by the CFPC for up to 7 Mainpro+® credits.
Available 24/7, across Canada, until April 2020.
Upcoming Events
Ontario:
Emergency 'hands-on' ED orthopedics course for ED physicians and staff. This course is designed to help you make more accurate diagnoses, recognize 'red flag' patients, and develop better management plans for your patients. It's a mix of lectures and hands-on learning.
Accreditation: 48 Mainpro+ credits. (1-day course = 27; 2-day course = 48).
When & Where: Nov. 30th. (Toronto) Dec. 4th., (Toronto), Dec. 5th (Richmond Hill), Dec. 9th (Ottawa).
Cost: $1800
Medical CBT Training: this workshop covers the Ten-Minute CBT approach, fundamental tools of persuasion, and important CBT pearls regarding patient adherence to therapy, chronic disease management (e.g., hypertension, diabetes), illness anxiety disorder ("hypochondriasis"), chronic worry ("GAD"), and other common disorders.
Accreditation: 18.0 Mainpro+ credits
When: December 6, 2019. 8:45am until 4:30pm.
Where: Queen's University, Kingston.
Cost: $495 (until Oct. 31st), $695 (after Nov. 1st), $895 (on-site).
BC:
For GPs in Oncology and all other cancer care providers: FPON Webinar: Nasopharangeal Cancer. Presentation with Q&A.
Accreditation: 1.0 Mainpro+
When: Nov. 21st, 2019. From 8:00am – 9:00am, PST.
Where: Online webinar
Cost: Free
2019 Pediatric Oncology Hematology Education Day: This educational day has been developed to reflect the needs of these physicians and multidisciplinary healthcare professionals. There will be an opportunity for dialogue, discussion, and Q&A throughout the program.
Accreditation: 7.5 Mainpro+ 7.5 MOC Section 1.
When: Nov. 21st (evening & dinner) & Nov. 22nd, 2019 (conference).
Where: BC Children's Hospital, Vancouver.
Cost: $55 before October 28th ($60 thereafter) for Nov. 21st.
$249 before October 28th ($259 thereafter) for Nov. 22nd.
Nutritional and Environmental Influences on Neurodevelopment: this program examines the current evidence for nutritional support of healthy neurodevelopment in children, with a focus on the influences of internal (microbiome) and external (environmental) health.
Accreditation: 6.25 Mainpro+ credits.
When: Saturday, Dec. 7th, 2019. 9:00am – 5:15pm.
Where: SFU Harbour Centre – Fletcher Challenge Theatre.
Cost: $295.00
Alberta:
Women's Mental Health (Psychiatric Quarterly Updates: Session Four). Each half-day session aims to cover important topics such as diagnosis review and update, treatment/therapeutic use and application, and local perspectives and resources. You can attend this session without having attended the previous ones.
Accreditation: MOC Section 3 – 3.5 hours
When: November 29, 2019. 8:00am – 12:45pm MST
Where: Foothills Medical Centre Auditorium, Calgary.
Rural Videoconference: Hereditary Cancer. Presented by Renee Perrier. Part of a weekly series that runs Tuesday mornings 8-9 AM
Accreditation: 1.0 Mainpro+ Group learning per session
When: December 03, 2019. 8:00am – 9:00am MST.
Where: Online
---
Podcasts
This month's suggestions: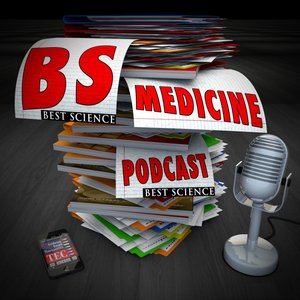 Best Science Medicine Podcast – BS without the BS:
Episode 428: Deprescribing is an essential part of good prescribing.

Mike and James invite Barb Farrell to discuss all the great work being done by the people at deprescribing.org. They discuss the general approach to deprescribing and why it is so important to keep this concept front and center of health discussions.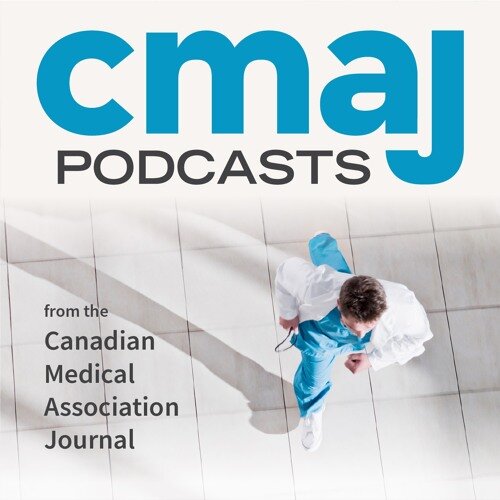 CMAJ Podcasts:
E-cigarettes, vaping, and pulmonary illness.
In this interview, Dr. Mehdi Aloosh discusses the latest evidence and information around e-cigarette use, smoking cessation, vaping of cannabis, and pulmonary illnesses linked to vaping.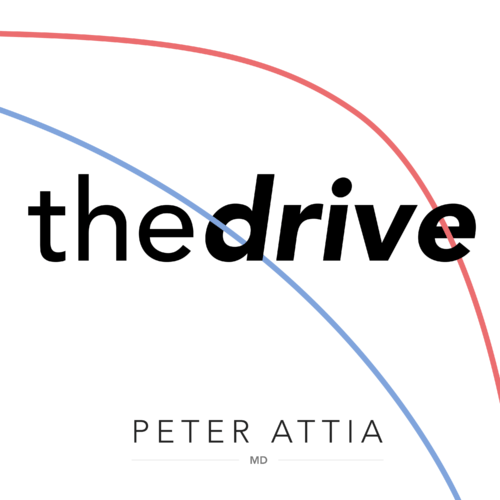 Peter Attia
Episode 75: Zantac recall due to cancer concerns – what you need to know.

In this episode, David Light, CEO of Valisure, explains the story behind the recent recalls by manufacturers of ranitidine, a common heartburn medication, sold under the trade name Zantac, due to a potential link to increased cancer risk.
---
News Around the Nation

Looking for more tutorials, tips and suggestions?
Let us know what you'd like to see in the next Better Billing Newsletter!
This article offers general information only and is not intended as legal, financial or other professional advice. A professional advisor should be consulted regarding your specific situation. While information presented is believed to be factual and current, its accuracy is not guaranteed and it should not be regarded as a complete analysis of the subjects discussed. All expressions of opinion reflect the judgment of the author(s) as of the date of publication and are subject to change. No endorsement of any third parties or their advice, opinions, information, products or services is expressly given or implied by RBC Ventures Inc. or its affiliates.
Discover a Simpler Way to Bill
Try our medical billing software free for 45-days, no credit card required.
Get started
By entering my email address, I agree to receive promotional emails from Dr.Bill. I can unsubscribe at any time.